Josh & Maj at Barktoberfest


Become a Volunteer!

Shore Service Dogs needs volunteers! There are so many ways for you to contribute, from running errands, to assisting with fundraising, to helping with training and so much more. We also very much need volunteers with photography or videography experience to help record the training and events.

Your help assists us in providing disabled individuals with the Service Dogs that make their lives so much easier. Come join our team of Shore Service Dogs volunteers and put your unique skills to great use helping a wonderful cause.

Help Us Educate Others

By scheduling a demonstration with us for your school, business, place of worship, organization, or club meeting, you'll have the chance to interact with our mentor dogs and trainers while providing a wonderful opportunity to educate your group about Service Dogs and the incredible benefits they bring to the lives of their disabled partners. We will present information about Service animals in public, how to interact with someone who has a service animal, common tasks that Service Dogs perform and much more. Our dogs will provide live demonstrations of some of their favorite tasks, some cute tricks, and possibly show off their Doggie Da Vinci talents.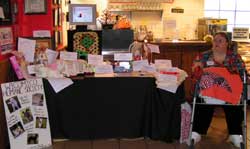 Sarah helping with the auction table


Become Part of Shore Service Dogs Today!

Our trainers are looking forward to hearing from YOU! There are so many ways to get involved, and by joining the Shore Service Dogs team you will be an integral part of assisting disabled individuals to gain independence.


Please email us at info@ShoreServiceDogs.com so we can discuss how your contribution can help make the difference in the life of someone who needs a Service Dog.

Together, we can help so many. Please join our team to change lives for the better!