Charity Auction Gallery

Shore Service Dogs strives to help rescued abused, abandoned, or neglected dogs to ultimately go on to people in need of their helping paws. But we realize that we're limited on how many dogs (and other animals) we can personally help save. That's why a few times a year we also donate a select few original Doggie Da Vinci demonstration created muttsterpieces to aid local animal charities in need of assistance in raising much needed funds for their causes. By giving back to our community, we hope that we'll be able to make a difference in even more lives.

From the traditional paintings to even an avant garde guitar body, you're sure to find a Doggie Da Vinci artwork worthy of your collection that will help our local charities make a difference to other animals in need. Won't you please help us help them with your generous auction bid?

Current Active Auction Offerings


In the upcoming months, we will be offering 3 different Doggie Da Vinci originals created during demonstrations earlier this year. They have been donated to local animal welfare organizations that work tirelessly to help save the unwanted and abused animals that are stuggling to survive.

The recipients of these painting donations include the Humane Society of Dorchester County MD (where Sammy came from), the Humane Society of Worcester County MD, and Whimisical Animal Rescue of Sussex County DE.

The paintings that will be benefiting the Humane Societies are your more traditional "hang on the wall" styles. Dorchester's muttsterpiece was created by Kayne at the last demonstration held during the Doggie Da Vinci's art exhibit at Salisbury University's Atrium Art Gallery. Worcester's Puppy PAWcasso is a Doggie duet creation by both Major and Sammy. And Whimsical Animal Rescue's will thrill music lovers, as Major and Sammy ventured out into a new style of art by painting a patriotic guitar body to celebrate our nation's birthday during their July 3rd interviews with W.O.C.M's Ocean 98.1 FM and French TV TF1..


Demonstration that benefited the Humane Society of
Worcester County MD
Demonstration that benefited
Whimsical Animal Rescue of
Sussex County DE

We are currently in the process of updating this section to showcase our next donated muttsterpiece that will benefit the Humane Society of Dorchester County. So please check back soon to see the auction item.

BACK TO TOP

---
Previous Auctions Now Closed
AUCTION OF ZOO DEMO PAINTING
THAT RAISED $1709 FOR THE SALISBURY ZOO!
---

From: cindy
Sent: Mon 7/23/2007 3:18 PM
To: The Salisbury Zoo
Subject: Re: Thank you from the Salisbury Zoo

Hi Mary,

You guys are super sweet for giving Clyde & I a place in your garden and so generous with all the extra goodies! The picture you sent of the pups is simply darling! I know your Red Wolf exhibit will be a huge hit and what an honor for you, to be one of the few to host it!

The dedicated work you are giving back to the community & nature is truly admirable. The most appealing thing about your Park to me, is the species selection. I think that by visiting your virtual "neighbors", one gains more respect and stewardship for the environmental "backyard" we share with these marvelous creatures. Sometimes it seemingly hard to relate to something that lives half way around the world and when you leave a said Park, you leave the animals behind. The impression I get from your Park with it's natural enclosures, education and activism, is that the visitor takes a little piece home with them and opens their eyes to some new furry or feathered friends.

Mary asked if I'd be visit the Zoo within the next few weeks. Unfortunately my schedule won't permit one, but hopefully allow a Fall trip so I can see these beautiful creatures, especially the wolves and the wonderful work you do.

Can hardly wait to hang this beautiful work of art from the Painting Puppers! :)

Cindy M

-------------- Original message ----------------------

From: The Salisbury Zoo
Hi Cindy,

Mary Stadelbacher just informed me of the terrific news that you are the proud new owner of the Zoo print from her Shore Service Dogs. I can tell you that it s amazing to see her dogs at work. She is so good with them and does such a great service for our community. Your contribution is greatly appreciated. We are a free Zoo and this contribution will help us in so many ways.

If you are ever in the area please let us know and we can give you a behind the scenes tour. Our Red Wolf exhibit will be finished sometime this fall. We will be getting two males at first then we will be getting breeding pair as soon as they are available. We will be involved in the Red Wolf SSP - Species Survival Program that will reintroduce the offspring back into the wild. We are very proud that we have been accepted into this program.

For your contribution we will put your name or Clyde's name in our corporate sponsor garden and make you an honorary red wolf animal sponsor. The certificate and picture of the red wolf will accompany your painting. We will also provide you with a membership to our little Zoo. The benefits include admission to over 120 zoos and aquariums accross the country.

Again, thank you so much for your support and enjoy the painting!

Mary M. Seemann
Marketing and Development
Salisbury Zoo


---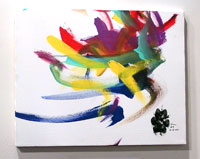 07/13/07 11:59 pm EST

SHORE SERVICE DOGS' ORIGINAL PAINTING DONATED TO THE SALISBURY ZOO FUNDRAISING AUCTION
Stretched Canvas 16" x 20"






Auction Closing Date: 07/13/07 11:59pm

HIGHEST BID AMOUNT:
$1709 - Cynthia M & Clyde (aka: Princess Pigbutt), Plymouth, MI


WOW!! Thank you Cynthia for your incredibly generous bid to help the Zoo!! And a big HAPPY BIRTHDAY to Clyde (Cynthia's yellow lab) who just celebrated her big 10 this past Mon (Mom Cynthia made this bid especially in Princess Pigbutt's honor for achieving such an auspicious birthday). May she have many more years of romping and dog toy enjoyment!! And a BIG THANK YOU also to Chris and Max (the gorgeous shepherd)!! All of you helped make an incredible difference to the Salisbury Zoo's auction and that support ends up aiding them to create wonderful habitats to educate future generations of the beauty of the wildlife that we share this planet with! If you're ever in Salisbury, make sure to visit it. It's a fantastic little zoo!

BIDDING HAS NOW BEEN CLOSED ON THIS ITEM. STAY TUNED FOR THE NEXT ITEM UP FOR BID TO HELP ANOTHER SMALL ANIMAL WELFARE CHARITY THAT COULD VERY MUCH USE YOUR SUPPORT!

For more information about the Salisbury Zoo and their animals, please visit http://www.salisburyzoo.org.

BACK TO TOP

---

COME JOIN US JUNE 2nd, 2007
3:00 pm - 10:00 pm FOR A PAINTING EXHIBIT & DEMONSTRATION AT THE SALISURY ZOO'S WORLD OF THE WILD ARTS FEST & WINETASTING EVENT!

DEMONSTRATION @ 5:00 pm

http://www.salisburyzoo.org/

This event will feature wildlife art from over 25 renowned artists from across the East coast and will feature wines from Maryland's top wineries Boordy Vineyards, Basignani Winery & Linganore Winecellars. Enjoy music by MP Steel Drums & The Stringdusters. Food by Catering by Chef Stewart and Market Street Inn. A silent auction of wildlife art will accompany this event. Tickets are $12 in advance, $15 at the door. Call (410) 548-3188 for more information or download a ticket order form here .

Click here for a map & directions to the Salisbury Zoo.

ZOO DEMONSTRATION UPDATE

The day and evening at the Zoo was wonderful. Sammy & Major were both fantastic on their demonstrations even after a full day of being tormented by a chipmunk that had a death wish (it kept coming up to within 2 feet of the dogs - Maj & Sammy REALLY wanted to play with it but they both held their down stays, I was extremely proud of both of them).

Sammy painted this beautiful painting which we donated to the Zoo to benefit them in their fundraising auction. It is currently being exhibited with the other Shore Service Dogs' paintings at the Salisbury University Atrium Art Gallery.

To bid on this PAWtographed masterpiece, please send an email with your bid offer and contact information to info@ShoreServiceDogs.com. An update of the highest bid amount will be posted at the top of this page each evening by 9 pm EST for the duration of the exhibit.


The winning bid will be posted at 9pm EST on June 23rd.

UPDATE: Due to the incredible response to the recent AP story, it was requested that the auction closure date be pushed back 2 weeks to allow fans of the "puppy PAWcassos" a better oppurtunity to make this beautiful piece their very own. The new closing date will be July 7th, 2007.

Click here for more pictures of the day at the Zoo.