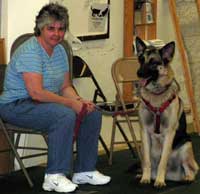 Gus sitting calmly with a
stranger during his CGC test.


Letter from Gus's Mom & Dad
December 8, 2004
Dear Mary!
We are so pleased with the rapid progress Gus is making with his "bootcamp" obedience training. He is already like a different dog!
Not that he was horribly naughty, but after only ONE week, his "shopping" (stealing things around the house and taking them to his bed to destroy them) had dramatically decreased and now, during week three, he is quite the polite doggy around strangers and he no longer "shops"!
Being a 100+ pound German Shepherd Dog, we truly needed to establish and fine-tune proper training techniques with him. We really love that you have us attend his 3rd training session each week so that we, too, can be "trained" in how to manage and work with Gus.
Best of all, he successfully passed the Canine Good Citizen test after only a couple weeks, which was quite amazing! We haven't even finished the four-week training program! Wow!!
Thanks so much, Mary for helping Gus, "mom" and "dad" to have a great, calm and loving relationship with one another!
Sincerely,
\s\
Newell and Tanja Q.
Sharptown, MD
BACK TO TOP
---
Letter from Kayne's Guardian Angel Mom
October 28, 2004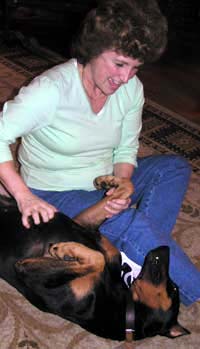 Kayne & Deb playing


His name is Kayne.
He's a very large and very handsome Doberman. He's only 2-3 years old but has suffered a lot in this short existence. The first year of his life he was kept chained in a backyard and underfed. When these owners moved, Kayne stayed chained in that yard until a kindly lady rescued him and made him part of her family. Unfortunately, this was not meant to have a happy ending either. Due to a recurring case of acute cystitis, Kayne finally ended up at Johnson & Mckee Animal Hospital, where he came into my life and we fell in love. His owner could not afford the diagnostics/treatments for his illness and made the sad decision to have him euthanized.
Fate was not going to allow this to happen. I was temporarily filling one of the positions in the office when Kayne came for treatment and I could not let this suffering but so sweet dog be put down. I took responsibility for him and his illness and took him home with me. After weeks of medication and lots of food to beef up this fellow, he showed himself to be a very loving and grateful guy. Once again, a somewhat sad problem arose. In my family were 3 other dogs (no purebreds, only castoffs - aren't they the best though?) and sadly, one of them was upset by Kayne's presence and continually acted aggressive toward him. In defense, Kayne reacted but only after several attempts to ignore my dope. As much as I wanted to be able to keep this wonderful dog, sadly, Kayne needed to be removed from my home for his and my other dog's safety.
This is where Mary Stadelbacher (Shore Service Dogs) came into our lives. She felt Kayne had the natural attributes to become a wheelchair service dog. He's very attentive and will work solely for praise and affection. Mary has been a godsend for us both. It broke my heart to part with him but to be able to witness what Mary has accomplished in only about 10 days with Kayne has not only astounded me but reinforced all the attributes I was sure he had. He follows her commands so well – it's truly wonderful to watch. The person he goes to will be getting an extremely loving dog with capabilities to learn which has been so demonstrated by Mary's interaction with him. To see them work together is so amazing, with Mary just a little over 5 feet and Kayne on his hind legs even taller. He respects her and to see them lock gazes is so cool. She doesn't have to raise her voice to have his attention. He wants to please her. It's so wonderful to see what can be accomplished with him.
I am so glad he has had this time with her. To have had no prior obedience training and within 10 days, be heeling without a lead, sitting and lying on command, leaving objects (food, water, toy) until released – it's fantastic! I know wherever Kayne goes now, he will have so much to offer. Thank you, Mary, for the love, care and training you have given to him when I was not able to keep him. He is such a sweetheart and you have been his angel. The service you are giving can not be calculated in dollars and is so needed. I'm sure God smiles upon you both.
Debbie W.
Salisbury, MD