---
SSD On TV
SSD In Print
This section is currently undergoing a major redesign to update the links and add the latest articles. Please check back soon! In the meantime, here are a few of the previous places that have featured SSD's Doggie Da Vincis.
SHORE SERVICE DOGS' PAWTOGRAPHED WORKS PART OF MODERN DOG ART TODAY!
The puppers paintings have been a wonderful success and have even landed them in prestigious sites such as Modern Dog Art Today where everything dog around the world is featured. I'll admit, I hadn't heard of it but you can bet I'll be making it a point to visit it frequently. Incredibly neat doesn't begin to do the site justice in description! If you're looking for dog art and fine culture that includes dog motifs, they would be my first place to look. They even can point you towards dog wine... no the dogs don't drink it but if they did that'd be the wine for them!
To learn more about Modern Dog Art Today, visit their website at
http://dreamdogsart.typepad.com/art
/
BACK TO TOP
---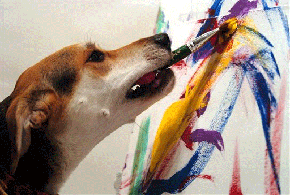 Photograpy by Matthew S. Gunby

SHORE SERVICE DOGS' EXHIBIT GOES INTERNATIONAL WITH ASSOCIATED PRESS ARTICLE!!!
On Tues. June 12th, Shore Service Dogs held their 2nd demonstration at the SSD premeire art exhibit and Associated Press writer Kristen Wyatt came down from Annapolis to watch our "Doggie da Vincis" do their thing. Sammy was the dog du jour of the show and he did beautifully on all his Service Dog tasks and painting demonstrations, He wowed the packed audience so much that his painting was immediately requested to be set aside so a lady could donate to the Shore Service Dogs fundraiser. While Sammy's original will be gracing the walls of a generous benefactor, numbered prints are still available as thank you gifts for various donation levels. You can read the June 17th
online article of the Washington Times here
, or click
this link if you'd like to obtain a print
of Sammy's masterpiece.
BACK TO TOP
---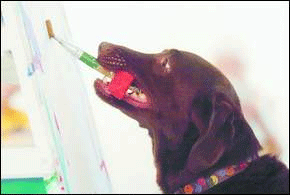 Photograpy by Matthew S. Gunby
SHORE SERVICE DOGS' PAINTINGS FEATURED IN REGIONAL NEWSPAPERS!
On Tues. June 5th, Shore Service Dogs held a demonstration to herald the grand opening of their 1st art exhibit. Major was the star of that day's show and even with the minor opening day glitches of forgotten blank canvases, he still rose to the challenge and created a gorgeous work of art that was not the least bit lessened for being on a lowly piece of 8.5 x11 copy paper. The original work is being donated to the Atrium Gallery for their permanent collection but
numbered prints are available to the public at various donation levels
.
Along with a crowd of admiring fans, the Daily Times's Marlene Jensen also attended and wrote a feature 2 page piece in the paper that came out in Fri. June 8th's Lifestyle section. Unfortunately the online article has apparently been archived and is no longer available, but we'll be scanning the newspaper article and posting it as a pdf so that you can read it that way.