Our mission is to aid those affected with disabilities and/or their caregivers to gain greater mobility, independence, and peace of mind through a partnership with our custom trained Service Dogs. We place quality canine partners with recipients in need and conduct fundraising to help offset the financial burden to those disabled individuals who utilize our services. We also provide information and education to the community about Service Dogs through public exposure of dogs in training, performance of seminars and presentations, and through newspaper and magazine articles and television coverage.
BACK TO TOP
---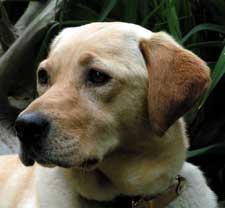 One of our rescued
sweethearts - Hope


Our Services
Shore Service Dogs specializes in training rescued dogs whenever possible to become Mobility Service Dogs that will aid the lives of those living with disabilities. We may also, in special circumstances, offer continuing education training of mobility tasks to already certified Guide/Seeing Eye or Hearing Dogs.
Each Service Dog is custom trained specifically to fulfill the needs of their disabled partners. We also offer the benefit of training a disabled individual's pet to become an Assistance Animal if the dog successfully passes our evaluation process.
In addition, we provide Therapy Dog training, obedience bootcamp instruction, behavior modification (such as anxiety desensitization), temperament evaluations, and seminars and demonstrations.