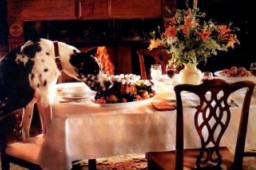 Helping themselves to your meal



Behavior Modification Training

Does your dog bite? Bark excessively? Run away? Jump on visitors? Fight with other dogs? Soil the house? Chew inappropriate objects? Steal food from the table? Exhibit separation anxiety or shyness?

Have you attended a dog training class in the past without results? Obedience Training classes are very useful in shaping a well-behaved pet, but they are not designed to effectively address disruptive dog behavior problems. These problems occur frequently and each year many dogs are either placed in shelters or destroyed because their owners felt overwhelmed and unable to deal with their pet's actions.

Shore Service Dogs provides solutions to these common dog behavior problems by offering private, one-on-one Behavior Modification services in addition to our Obedience Instruction, Therapy and Service Dog programs. As our dogs are rescues with checkered pasts, we've successfully addressed a variety of these problems along their journeys in becoming Service Dogs. Our specialty is that we are able to evaluate dogs and custom tailor a training program to achieve your specific goals. Your sessions will show you techniques and tools that will enable you to understand and correct your dog's undesirable actions.*


BEHAVIOR MODIFICATION ASSESSMENT REQUIREMENT

---

An initial 1 hour assessment session is required for all new dogs & owners enrolling in a behavior modification package, to help us determine what will work best for you and your dog(s). This is conducted at a rate of $60 (per dog). In addition to determining the proper level of training needed for your dog's behavior issues, this also allows us a chance to get to know both of you and to formulate a game plan ahead of your package's 1st session. That way we can immediately start in on getting your dog (and you) on their way to better behavior. We only have a relatively short period of time working together change what usually are very ingrained habits, so we want to ensure we give you the most helpful tips and information we can in that length of time that you're learning with us. We want your dog to become success stories just like ours have become!

Level 1 Package
---
1 Training Session & 1 Follow-up Consultation -$120/120 minutes

For less complicated behavior problems, we offer an initial single 90 minute private training session with a 30 minute follow-up consultation 2 weeks later, at a cost of $120. Some examples of behaviors that may be addressed by this program are:


Chewing

Car Sickness

Feces Eating

Barking

Trash Diving

Play/Puppy Biting

Jumping On Visitors

Getting on Furniture

Bolting Out the Door
Level 2 Package
---
4 - 90 Minute Sessions -$310 (Normally a $360 value)

To address more complex and ingrained behaviors, we offer 4 weekly 90 minute training sessions with you and your dog, at a cost of $310. Just as it is extremely difficult for humans to stop a bad habit, so it is with dogs. Many of the problems that are dealt with by this package are almost impossible to remedy in a single session. The extra time and training invested with this approach provides you with a more comprehensive and successful way to correct your dog's undesirable behaviors.

Please note that many bad behaviors are a reflection of an entire picture of interaction and environment... not just one isolated issue. In many instances we humans are the ones needing the practice on what helps our dog and what we shouldn't do because it makes them worse. In these instances, the Pet Obedience Bootcamp better addresses the problem by a tailoring a holistic obedience and behavior modification curriculum.

Some examples of severe behaviors that may be modified by this program are:


Phobias (noise, movement, animals, humans, etc.)

Shyness

Submissive/Excitable Urination

House Soiling

Chasing Things

Digging

Escaping

* Some inappropriate behaviors are the result of a medical condition and will require veterinary care in conjunction with Behavior Modification to achieve the desired results.