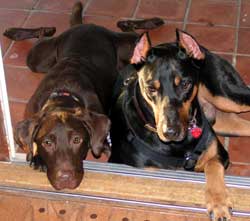 Major teaching Kayne to wait patiently


Mentor Dogs


We have found our mentor dogs to be invaluable in the education of future Service Dogs. Through them, we are able to provide our canine students with both playmates to give them valuable socialization and teachers to guide these apprentices along their path to becoming a Mobility Dog






Gus learning to ignore distractions


Our mentor dogs give a stabilizing presence to the new students. They are able to help them conquer their fears, overcome behaviour problems, learn self control, and become well rounded and grounded canines.

From providing distractions to showing them how things are done, our mentor dogs are true role models for our Service Dog trainees and pet obedience students.

BACK TO TOP

---

Major bringing a smile.



Therapy Dogs
Our mentor dogs also bring joy to others by being Therapy Dogs at local hospitals and nursing homes. Many people who are at these facilities have dogs that are unable to visit them. This can be especially difficult when someone is recovering from an illness or injury and could use a little TLC from a furry "candystriper".

Our dogs are intensively trained to be around all types of infirmities and equipment. By being Therapy Dogs, they are able to bring both healing love and joyful smiles to ones who need it the most.

If you have a dog that you'd like to train to become a Therapy Dog, please visit our Therapy Dog Training page. There you can find out more about how you can become a Therapy team and bring smiles of happiness to people who appreciate it the most.